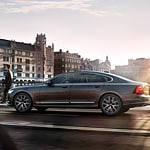 The Volvo S90 is a popular luxury sedan that's known for its great performance, superb power, room interior, classy exterior and numerous safety features. Volvo has been the forerunner of numerous safety features over the years, and the S90 is loaded with safety features. You can check out the Volvo S90 at Smith Volvo Cars and also learn about its numerous safety features.
• Whiplash Injury Protection – Provides the vehicle with seats designed to support your body so you won't get whiplash if involved in an accident.
• Blind Spot Monitoring – This feature watches your surroundings and things that you can't see and alerts you of a potential accident.
Once you check out the Volvo S90, you'll see why it's such a popular vehicle. If you test drive it at the San Luis Obispo store, you'll understand why so many people want to own it. Whether you're a single driver or part of a family, you'll love all the safety features.