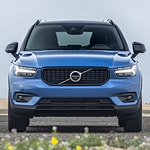 The team here at Smith Volvo Cars wants to introduce you to a compact SUV that everyone's been talking about, the Volvo XC40 R-Design. This vehicle's starting price is $39,950 and offers available design features that are sure to turn heads from every angle.
This vehicle has pops of dark color that start on the roof in a stunning Black Stone while other exterior features like the front grille and side mirrors are finished with a smooth, glossy black paint. The interior of the Volvo XC40 R-Design is just as pleasing to the eye with fine Nappa Leather/Nubuck upholstery and an available Lava interior carpet that gives the car a youthful appeal.
Come take the Volvo XC40 R-Design for a test drive around San Luis Obispo. CA, and discover all the unique features that make this one of the most sought-after performance SUVs on the lot.